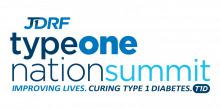 North Florida Chapter
JDRF Type One Nation Summit Conference
January 25, 2020
8:00 am – 1:30 pm
  University of North Florida- Adam Herbert University Center
The TrialNet team has been invited to screen at the North Florida JDRF Chapter Type One Nation Summit. Join other individuals, families, and caregivers affected by type 1 diabetes at all stages for a free, half-day educational and networking opportunity. Talk to experts about research advancements and participate in discussions important to you.
We will be screening family members for type 1 diabetes risk through the Pathway to Prevention Study. Participating involves a simple blood test that could detect an increased risk up to ten years before symptoms appear. Those that test at increased risk may be eligible to participate in a prevention trial or ongoing monitoring. Screening is offered at no cost to relatives.
If your family is attending the conference, please look for us in the vendor area.
Not attending the conference? Call Kim Ponthieux at 904-697-3431 to schedule a screening at Nemours Children's Clinic in Jacksonville, or call 877-343-2377 and we'll send you a kit for screening at a lab close to your home
For details about the event or to register go to:
JDRF North Florida Type One Nation Summit