The Pathway to Prevention screening is the first step for all TrialNet prevention studies. Screening is offered free to relatives of people with T1D to evaluate their risk of developing the disease. This unique screening can identify the early stages of T1D years before any symptoms appear. This advance knowledge provides a window of opportunity when steps can be taken to attempt to delay or prevent the disease.  It also helps researchers learn more about how T1D develops and plan new studies exploring ways to prevent it.
Study Name: TrialNet Pathway to Prevention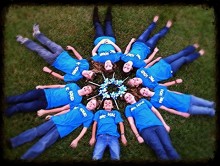 Principal Investigator: Michael Haller, MD
Study Coordinator: Jennifer Hosford, MPH
Phone: 352-294-5760
Email: jennifer.hosford@peds.ufl.edu
Who can participate?
Individuals who are 2.5-45 years of age with a parent, child, brother, or sister with type 1 diabetes
Individuals who are 2.5-20 years of age with a niece, nephew, aunt, uncle, grandparent, half-sibling or cousin with type 1 diabetes
Individuals who have already been told by a doctor that they have an autoimmune marker which puts them at higher risk for developing type 1 diabetes
What will study participants be asked to do?
Screening involves a simple, and free blood test that can identify the presence of autoantibodies that signal an increased risk for the disease. If you are interested, follow the link below to the Pathway to Prevention Informed Consent Form. Upon completion you will be contacted by one of our Study Coordinators to answer questions about the study and review eligibility for participation.
CLICK HERE TO CONSENT FOR FREE TRIALNET T1D ANTIBODY TESTING
We try to make screening as convenient as possible.  You will hear from one of our Coordinators to review the Informed Consent Form, and study eligibility. Families will receive a remote test for screening either at home or at a local lab. For more information, call the University of Florida TrialNet Team at 352-294-5760.

Scan to Consent for TrialNet Screening