The University of Florida TrialNet research team is conducting two studies for people who do not have type 1 diabetes, but are at increased risk because they have a family member with the disease.
Your participation in the research helps solidify and better define evidence for promising new therapies for this disease. The Hydroxychloroquine Study and The Abatacept Study, will help TrialNet learn more important scientific information.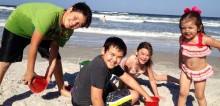 *Eligible participants must first enroll in the TrialNet Natural History Study. Those who are identified to be at increased risk of developing type 1 diabetes are offered the opportunity to participate in these additional studies. Screening is the first step on the pathway to prevention. Call toll-free 877-343-2377 to to learn more about the studies or to schedule an appointment for screening.