Pathway to Prevention Study
The Pathway to Prevention study offers a blood test that can identify the risk for type 1 diabetes up to 10 years before symptoms actually appear. Since inception, TrialNet has screened over 200,000 participants in this study. Of these, the UF TrialNet Clinical Center network has screened over 13,000 participants.
Study Name: TrialNet Pathway to Prevention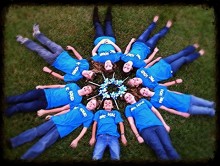 Principal Investigator: Desmond Schatz, MD
Study Coordinator: Jennifer Hosford, MPH
Recruitment Coordinator: Annie Abraham
Phone: 352-294-5762 or 352-294-5760
Email:  abraa@peds.ufl.edu
What is the TrialNet Pathway to Prevention Study?
TrialNet is screening relatives of people with type 1 diabetes to find out if these family members are at risk for developing diabetes. If you have a relative with type 1 diabetes, your chances of being diagnosed with the disease are 15 times greater than a person with no family history of the disease. If you learn you are at risk for developing type 1 diabetes, additional tests will be offered. If you qualify,you may have an opportunity to be enrolled in either the monitoring phase of the study or a Prevention Trial.  Although the symptoms of type 1 diabetes may seem to appear suddenly, research has found that the potential risk can be detected years before symptoms appear. This advanced knowledge provides a window of opportunity when steps can be taken to attempt to delay or prevent the disease.
Who can participate?
Individuals who are 2.5-45 years of age with a parent, child, brother, or sister with type 1 diabetes
Individuals who are 2.5-20 years of age with a niece, nephew, aunt, uncle, grandparent, half-sibling or cousin with type 1 diabetes.
What will study participants be asked to do?
Screening involves a simple, and free  blood test that can identify the presence of autoantibodies that signal an increased risk for the disease. TrialNet has established screening sites throughout North America. Please contact us to learn more about the study. We try to make screening as convenient as possible. To make an appointment, find a screening location near you, or to request a test kit, call toll free -877-343-2377.
Informed Consent Form available upon request